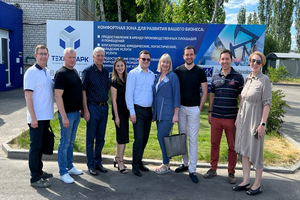 Visit of Russian trade representatives to the production of AvtokomTechnology Group
30.06.2022. The production site "AvtokomTechnology Group" was visited by Russian trade representatives in foreign countries on a working visit. The delegation was attended by trade representatives of the Russian Federation in the Republic of Azerbaijan, the Republic of Belarus, the Republic of Cuba, the Kingdom of Morocco and representatives of relevant committees of the Administration of the Volgograd region.
During the visit, issues of developing trade relations with foreign countries, the organization of exports in the context of new realities, as well as mechanisms for mutually beneficial cooperation were discussed.

The visit of trade representatives of the Russian Federation in foreign countries will allow AvtokomTechnology Group to find new partners, expand sales markets, and develop exports of products to friendly countries.

Also, taking into account the current geopolitical situation in the world, the impossibility of using spare parts and components of imported production, AvtokomTechnology Group operates within the framework of the federal import substitution program. Thus, the competitive products of AvtokomTechnology Group will allow industrial enterprises of the Russian Federation and friendly countries to avoid problems associated with the violation of established logistics chains, sanctions risks and dependence on currency fluctuations, moreover, it will reduce the delivery time of spare parts.